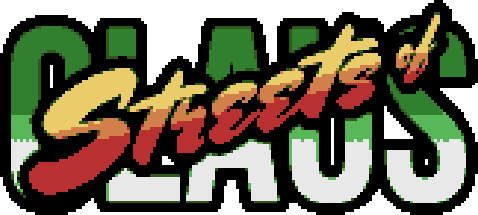 Streets of Claus
(Made in 7 days for GMBR 2020 Christimas Contest)
It was a beautiful Christmas night... Santa Claus was preparing to deliver the last gift of the year, when he was suddenly knocked and fell off his sled. Unfortunately, he fell in a dangerous neighborhood, and now he is going to punch some criminals to make the delivery.
DPAD or Analog Stick: Move
A: Jump
B or X: Attack
Start: Pause
WASD or Arrow keys: Move
Z or Espaço: Jump
X or Ctrl: Attack
Enter: Pause
Download
Click download now to get access to the following files:
Streets of Claus - v.1.0.zip
5 MB
(JAM VERSION) Streets of Claus - Windows.zip
3 MB
Comments
Log in with itch.io to leave a comment.
We really enjoyed our time with it. Now only if Santa could have made more deliveries to more streets.